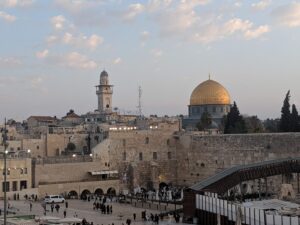 The recent terrorism in Israel has been horrific and heart breaking. I have been to Israel and the West Bank territories many times. We have had several family members live and work in Israel. We love the people, and the place.
With the escalation of this conflict, we find ourselves shocked, sad and angry.
It is important to denounce terrorism and the atrocities committed against Israel. It is important to pray for the Israeli and Palestinian people. It is important to pray for peace and for aid to get to the innocent people suffering as a result of this war. It is important to be aware of the danger of revenge and the dehumanization of one's enemies. A few facts that I consider as I pray:
I pray for people on both sides of this conflict. I pray for the Israeli victims of the terrorist attacks. I pray for the children who live in the West Bank who account for approximately 50% of the population. I pray for the many Palestinian Christians and ministries that are in the West Bank. I pray for food, water, aid, and peace to come as soon as possible, with a minimal loss of life. I pray for the spread of the Gospel during this time.
I remember the words of Jesus, and the practices of the New Testament Christians while facing persecution and injustice. They faced terrible political opposition but never called people to take up arms.
I am reminded that we do not wage war as the world does.
Let us stand in love and in prayer as we intercede for those who are being held hostage, those who have lost loved ones, and those who have lost everything because of this war. Pray for the refugees who have been displaced. Let's also pray for the perpetrators of evil to be stopped swiftly, in Jesus name.
Take a moment to consider these verses, and to pray for the land of Israel:
Matthew 5
Now when Jesus saw the crowds, he went up on a mountainside and sat down. His disciples came to him, 2 and he began to teach them.
He said:
3 "Blessed are the poor in spirit,
for theirs is the kingdom of heaven.
4 Blessed are those who mourn,
for they will be comforted.
5 Blessed are the meek,
for they will inherit the earth.
6 Blessed are those who hunger and thirst for righteousness,
for they will be filled.
7 Blessed are the merciful,
for they will be shown mercy.
8 Blessed are the pure in heart,
for they will see God.
9 Blessed are the peacemakers,
for they will be called children of God.
10 Blessed are those who are persecuted because of righteousness,
for theirs is the kingdom of heaven.
11 "Blessed are you when people insult you, persecute you and falsely say all kinds of evil against you because of me. 12 Rejoice and be glad, because great is your reward in heaven, for in the same way they persecuted the prophets who were before you…
38 "You have heard that it was said, 'Eye for eye, and tooth for tooth.'[h] 39 But I tell you, do not resist an evil person. If anyone slaps you on the right cheek, turn to them the other cheek also. 40 And if anyone wants to sue you and take your shirt, hand over your coat as well. 41 If anyone forces you to go one mile, go with them two miles. 42 Give to the one who asks you, and do not turn away from the one who wants to borrow from you.
43 "You have heard that it was said, 'Love your neighbor[i] and hate your enemy.' 44 But I tell you, love your enemies and pray for those who persecute you, 45 that you may be children of your Father in heaven. He causes his sun to rise on the evil and the good, and sends rain on the righteous and the unrighteous. 46 If you love those who love you, what reward will you get? Are not even the tax collectors doing that? 47 And if you greet only your own people, what are you doing more than others? Do not even pagans do that? 48 Be perfect, therefore, as your heavenly Father is perfect.
Galatians 5
22 But the fruit of the Spirit is love, joy, peace, forbearance, kindness, goodness, faithfulness, 23 gentleness and self-control. Against such things there is no law. 24 Those who belong to Christ Jesus have crucified the flesh with its passions and desires. 25 Since we live by the Spirit, let us keep in step with the Spirit.
2 Corinthians 10
3 For though we live in the world, we do not wage war as the world does. 4 The weapons we fight with are not the weapons of the world. On the contrary, they have divine power to demolish strongholds. 5 We demolish arguments and every pretension that sets itself up against the knowledge of God, and we take captive every thought to make it obedient to Christ.
May we stand together, united in prayer, as peacemakers in actions and in the Spirit.